Just yesterday I was talking with my friend Isabel Deeik (owner of http://www.GrapeHeartWines.com) on our way to San Francisco, about missing Middle Eastern food.  Shifting to a plant based diet has been great, but I have been on the look out for different recipes.  Isabel is from Turkey and we share a love for the food.
This morning an email hit my mail box and I discovered this recipe!  Can't wait to try it.
Spiced Carrot and White Bean Dip
A lightly spiced dip with Middle Eastern flavors is the perfect addition to vegetable platters, sandwiches, or falafel dishes.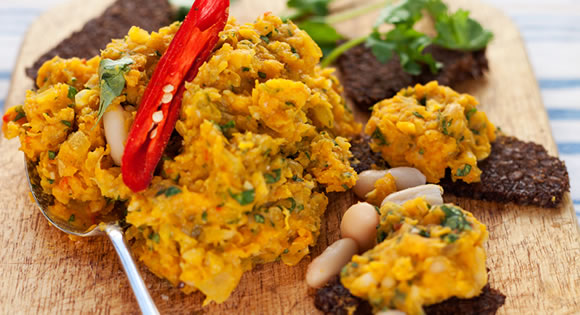 Prep Time: 10 Minutes
Cook Time: 10 Minutes
Yield: Makes Approximately 2 Cups
Notes:
We've used butter beans in this recipe, but great northern or navy beans will work just as well.
Prepared dip will keep in the refrigerator for 3-4 days.
Ingredients:
1/4 cup vegetable broth
1 large carrot, grated
1 small brown onion, diced
1 clove of garlic, crushed
1 small red chili
1 tsp. ground cumin
1/2 tsp. paprika
1/2 tsp. ground coriander seed
1/4 tsp. turmeric
1/4 tsp. cayenne pepper
1 x 15 oz. (425g.) can butter beans, drained and rinsed
2 tbsp. fresh lemon juice
1/4 cup chopped fresh coriander
Instructions:
Heat vegetable broth in a small saucepan. Add the carrot, onion, garlic and chili. Sautee over a medium heat for 3 minutes. Add the cumin, paprika, ground coriander seed and turmeric, and a little extra water if needed to prevent the ingredients from sticking to the pan. Sautee the carrot and spice mixture for 5 minutes, or until the carrots are soft.
Place the white beans and lemon juice in a food processor. Add the spiced carrot mixture and blend until smooth.
Transfer mixture to a bowl and stir in the chopped coriander. Refrigerate until cool before serving.